The Complete Rug Buying Guide
Tips for Finding the Best Rug for Your Home
When you're furnishing a home, an area rug can really bring your whole look together, no matter what your design. But with so many choices in style, shape, color, and fabrication, the decision can feel overwhelming. Don't worry; we're here to help you cut through the clutter to find a rug that's right for your home in form and function. For this comprehensive area rug buying guide, we've talked to experts, scoured the internet, and done our homework to give you all the information you need to make an informed decision.
---
Before You Buy an Area Rug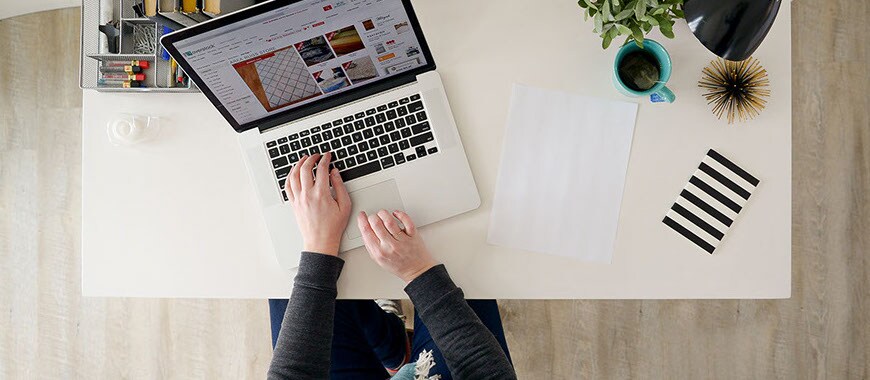 A rug isn't just a pretty piece of art for your home; it also serves the important role of making your home more cozy and comfortable. An area rug can dampen the noise of footsteps, provide a cushion between your feet and hard floors, and serve as the anchor for any arrangement of furniture.
4 Things to Consider Before Buying an Area Rug
Smart rug buying begins with asking a few questions about your lifestyle and needs. We've done the dirty work for you and created a list of four key points to think about before you purchase a rug.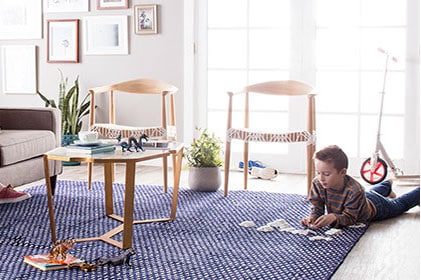 1

Lifestyle

Understanding how your rug fits into your lifestyle will help you choose one that will make your rug a comfort and style asset rather than a cleaning problem.
Kids and pets are hard on rugs, so it's wise to consider a rug that is both durable in high foot traffic and easily cleaned.
The elderly and others may need special considerations if they have canes, walkers, or wheelchairs. Low-pile rugs with secured edges are a must.
Those with allergies will want to be especially careful about the fiber makeup of the rug.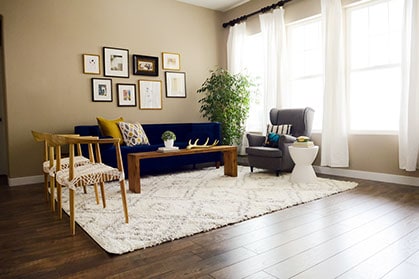 2

Placement

An area rug will get different levels of use depending on the room it's placed in. An easily washed rug is perfect for the kitchen, but a formal sitting room won't need those same considerations. Consider the following when choosing:
High foot traffic: Durability and cleanability are the priority.
Spills: Easily cleaned fibers, like wool and most synthetics, do well.
Sunshine: If the rug is constantly exposed to sunlight, it will fade.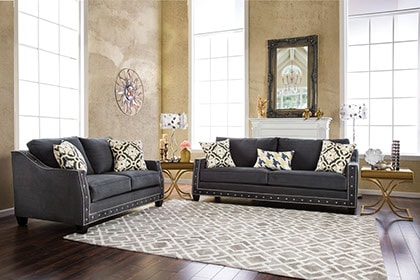 3

Design

Making your area rug work with your other furniture and accessories can be intimidating. However, three simple strategies can help you choose.
If your walls and furniture are neutral, try a rug with a bold pattern to add a pop of color and energy to the space.
If your walls or furniture are more colorful, try a rug with a neutral, tonal pattern so it won't fight for attention.
Match your rug to existing secondary colors in the room, like the colors found in your window coverings, paint and pillows. This creates unity and a seamless look.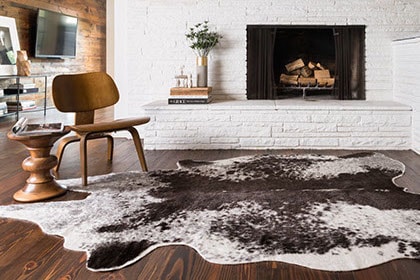 4

Prioritize

It's likely your lifestyle and your design wants won't match up perfectly. So it's time to prioritize your needs and wants. Knowing your top priorities — like durability, cleanability, cost, comfort, or style — will help you narrow down your choices.
Durability
Cleanability
Cost
Comfort
Style
How to Measure for an Area Rug
All the experts we consulted agreed that choosing an area rug that is too small for your space is the number one reason people are dissatisfied with their rug purchase. It's important to plan ahead and take precise measurements of your room before you pull the trigger. The 30-second video above shows simple tips to make the process easy.
Standard Area Rug Sizes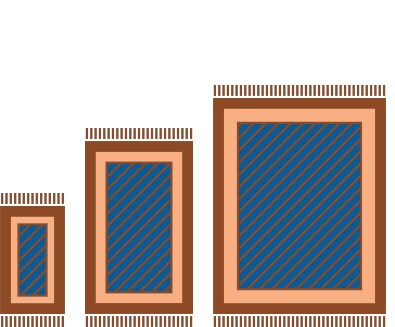 3' x 5' 5' x 8' 8' x 10'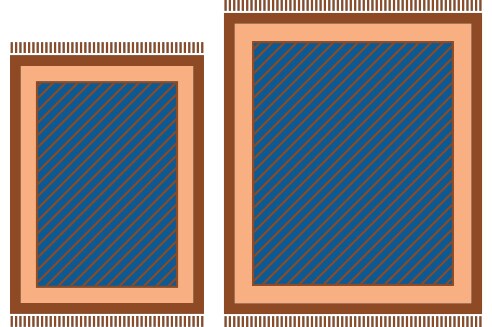 9' x 12' 12' x 14'
How to Place an Area Rug
Where to place furniture on your rug goes hand-in-hand with choosing the right size rug for your space. Remember that a rug anchors or unifies your furniture, letting your eye subconsciously understand that the various pieces in a room belong together in that space. Keep scrolling to see basic ideas of placing your area rug in a living room, bedroom, dining room, and kitchen.
4 Design Fundamentals for Area Rugs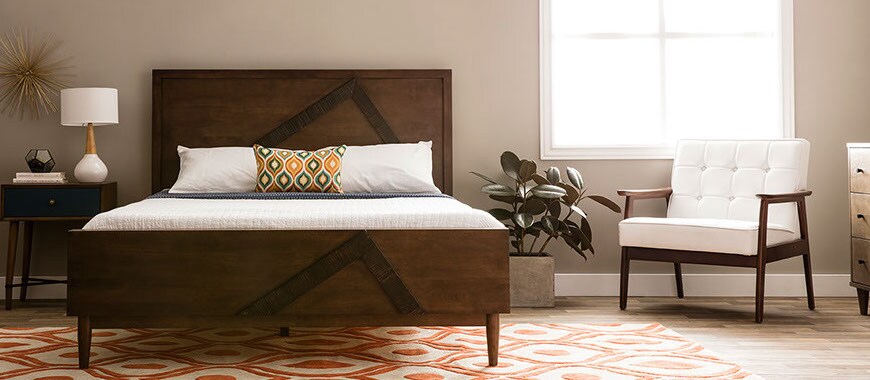 Let's face it, the most intimidating part of choosing an area rug is finding one that looks aesthetically pleasing in the context of your room and furniture. The choices are seemingly endless! To help, we've put together some simple design ideas to follow to make the process of choosing an area rug that much easier.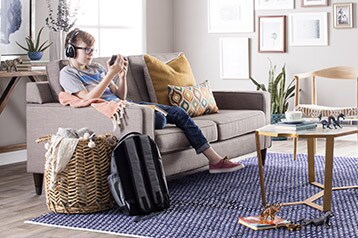 1. Function
The first consideration of any room design is to think about how you need the room to function in your life. If you live with kids or pets, your choices will be different than if your room has little foot traffic. Check out the 4 Things to Consider Before Buying an Area Rug section above to get more helpful tips for choosing the area rug style that's right for you.
---
2. Center Stage
There are two basic ways to think about area rugs, and either one puts your rug choice at center stage as the unifying element for your furniture. When furniture is arranged on a properly sized and placed rug, everything looks like it belongs together. It creates a cozy and harmonious feeling in your home. First, if you have neutral furniture, your area rug is a great place to bring in bold colors and patterns to add depth and interest to the room. Think bold
geometrics
or scene-stealing
Oriental
rugs paired with your neutral sofa. Second, if you have furniture that is the showcase of your room design, a more neutral rug will still help unify your look without the area rug fighting for attention. Think subtle, tonal patterns next to a large-print couch or a special fabric.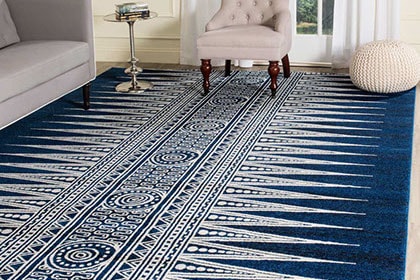 ---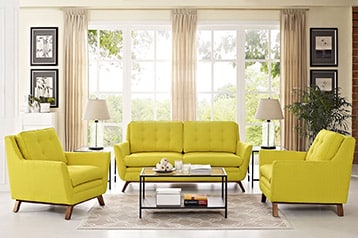 3. Color
Choosing a rug color is similar to choosing a wall color. Dark walls, furniture, or rugs may make a small room look even smaller, while a lighter palette can visually open up the same space. Rugs featuring a subtle design and neutral furniture can also be considered a blank canvas, which means your pillows, lamps, throws, and other accessories become your medium to add depth and pops of color to your design. Bonus: If you choose this route, it's easy to change out accessories as the seasons or trends change.
---
4. Sizes & Shapes
The key to picking the perfect rug is choosing the right size. At the very least, you want the rug to be large enough to fit all the front legs on the furniture. For more tips on understanding what area rug size is right for your room, check out the How to Measure for an Area Rug section above. There are no hard and fast rules about rug shapes, but many designers choose to mimic the shape of the room, a key design element, or piece of furniture. For example, you could echo a rounded entry with a round or semi-circle rug, and a rectangular coffee table pairs well with a rectangle rug.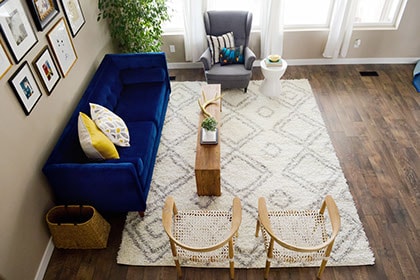 Area Rug Weaves & Fibers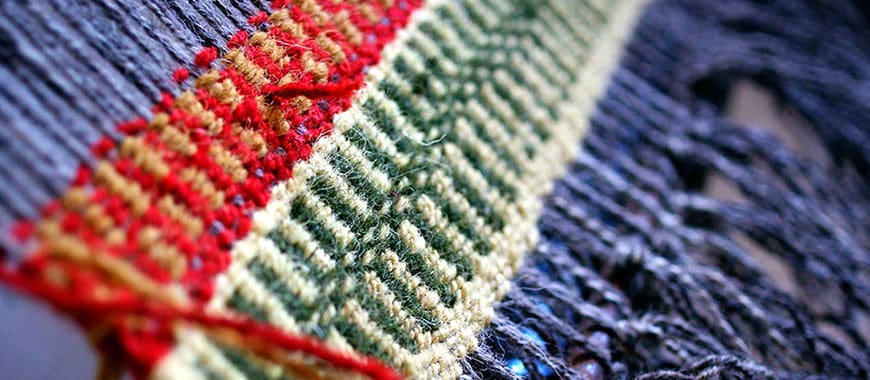 Understanding the makeup of your area rug will help you make an informed decision about cost and quality as you shop. The methods used to make the rugs and the fibers used in the rug yarns will affect the price, cleanability, durability, comfort, and more. The more you know about the pros and cons of each weave the fiber, the happier you'll be with your area rug purchase.
Area Rug Stain Removal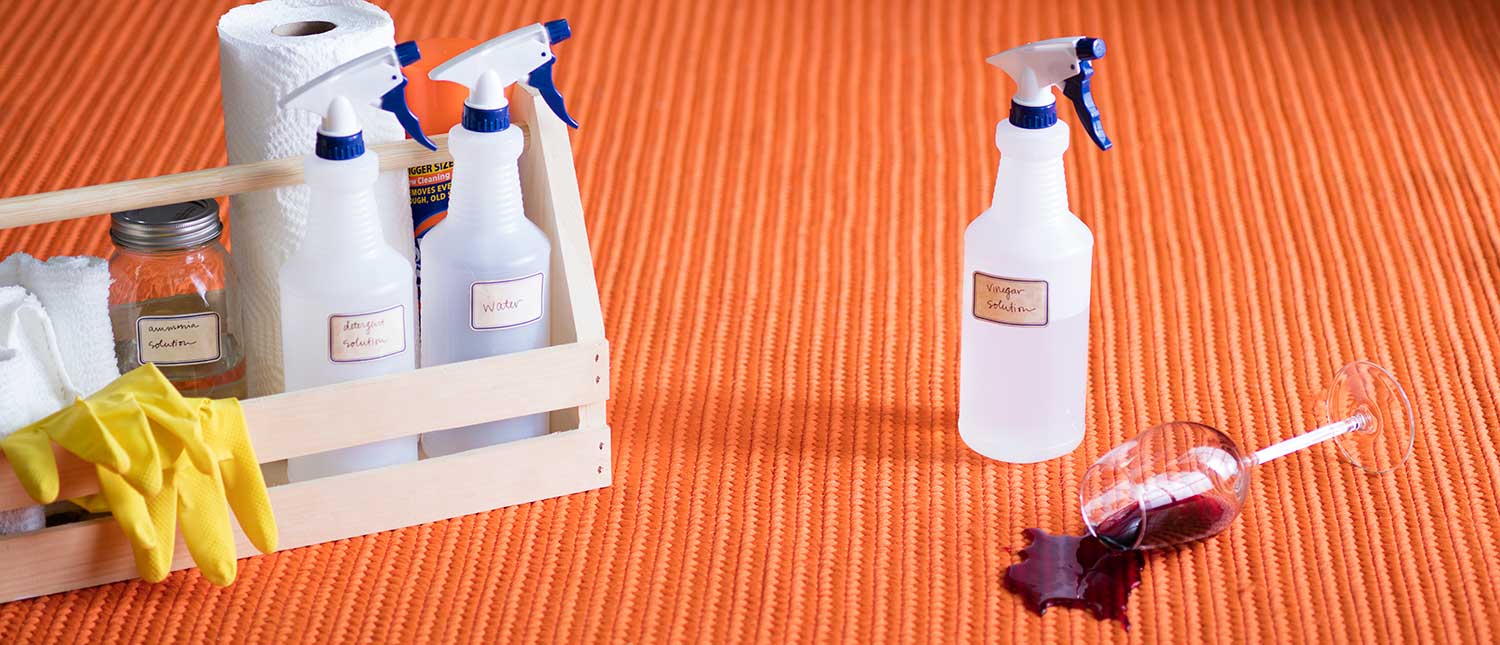 There's nothing worse than that first stain on a brand new rug. No matter how careful you are, it's going to happen, but that doesn't mean you can't make the rug like new again. We've done the research and put together a list of just what you need when the inevitable accidents happen.
Once you've found the perfect area rug, proper care will extend its life for years to come. An important part of that care is prompt and careful attention to spills and stains. However, not all stains should be treated equally. First, read the rug tags to become familiar with the manufacturer's instructions. Next, check out links below to learn how to remove a variety of stains from rugs made from both natural and synthetic fibers.
Removing Stains From Cotton & Wool Rugs
Removing Stains From Synthetic Rugs
Removing Stains From Any Fiber Rug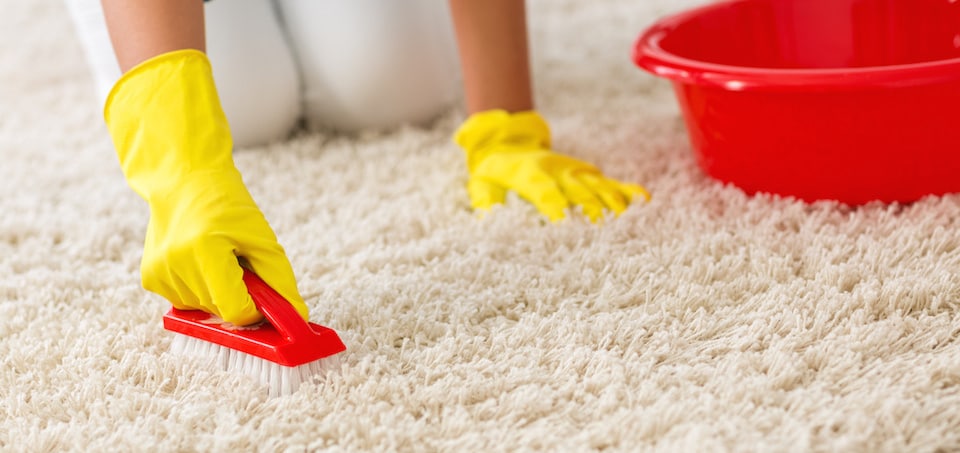 Preventative measures and a regular maintenance routine will do wonders for your rug. Check out our handy tips for keeping your rugs in tip-top shape! No matter what type of rug you have, a little care and attention will keep your rug in good shape. Simple things, like removing your shoes when you're at home, helps reduce the amount of dirt particles you may have to wrangle later.
6 Tips to Keep Your Rug in Good Shape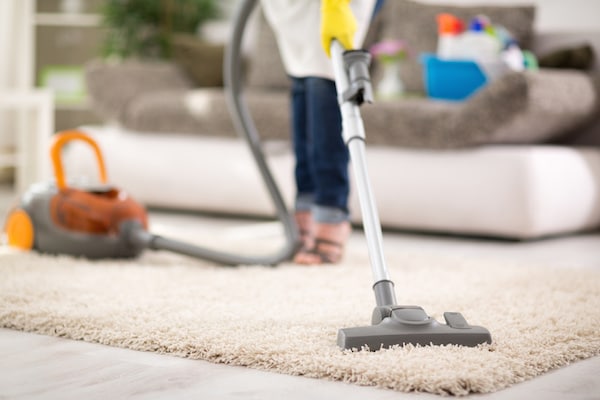 1. Vacuuming
Regular vacuuming is the MOST important thing to maintain the beauty of your rug. Keep in mind that vacuuming without the beater bars is best.
Pro Tip:
Some rugs benefit from a yearly "dusting," which is achieved by turning your rug over and vacuuming the underside of the rug.
---
2. Rug Pad
A rug pad provides a foundation for longer rug life by preventing premature wear caused by having a rug on an uneven surface. A pad also helps prevent your rug from "creeping," even if it's held in place by large pieces of furniture.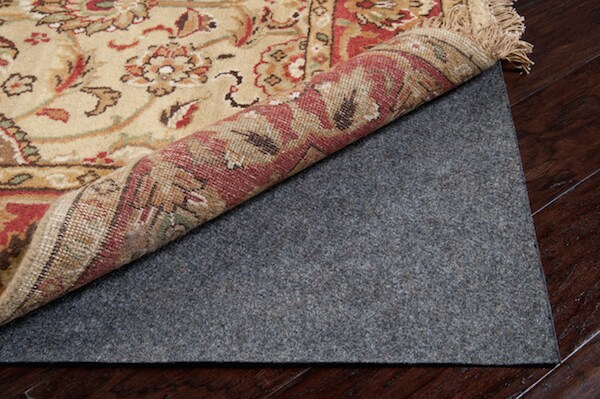 ---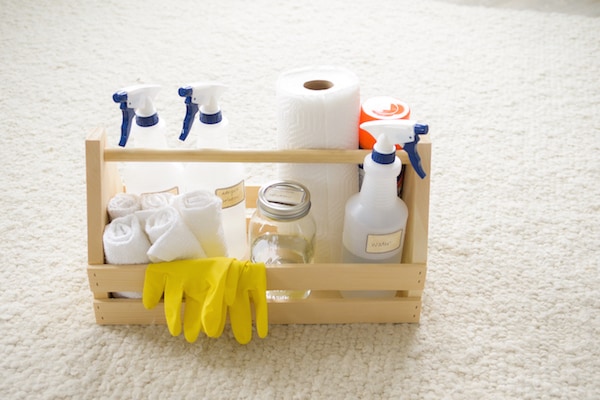 3. Cleaning
Quick action in handling spills is the key to avoiding stains. For liquid spills, press firmly with a clean cloth to absorb as much as possible. Do not rub! This will cause a stain to set deeper. For more tips on cleaning everyday spills, visit our cleaning section.
Pro Tip:
Professional rug cleaning is recommended every 12 to 18 months to remove dirt and grime buildup.
When purchasing your rug, keep your care tag of appropriate cleaning techniques for future reference.
---
4. Shedding
Is your rug shedding? Don't despair! With regular vacuuming, it's normal for rugs to shed for the first six months. Beyond that, consult with the manufacturer as the rug may be defective or inferior.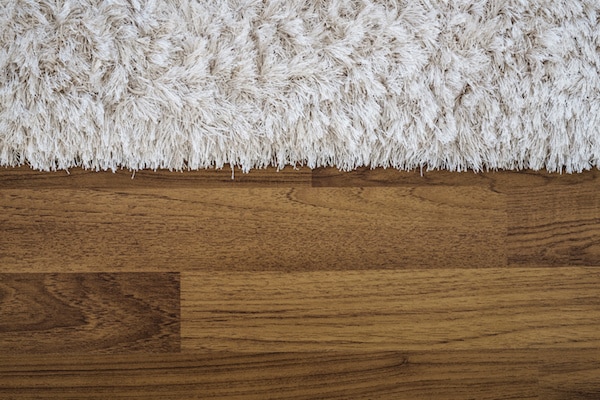 ---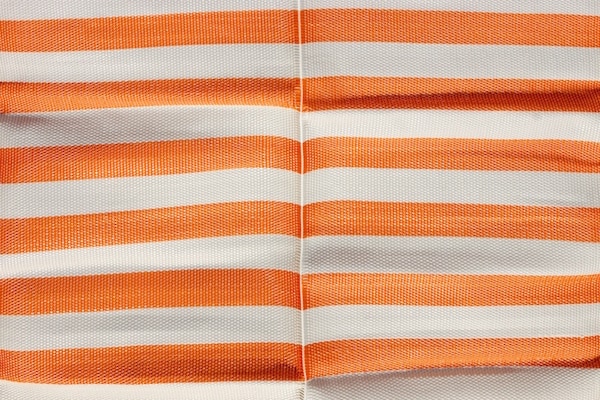 5. Removing Creases
Rug creases will normally flatten with time, so it's important to let your rug "settle." Reverse rolling can help this process.
---
6. Sunlight
Direct sunlight will cause your rug to fade over time, so position your rug away from direct sunlight whenever possible or rotate the rug regularly so the design fades evenly. Using window treatments that block UV rays can give additional protection to your rug and other furnishings too.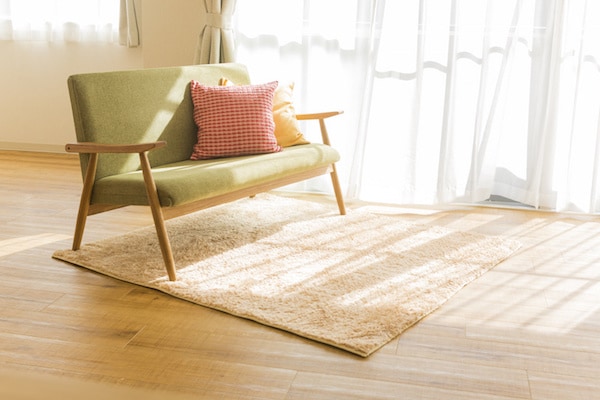 How to Repair Damaged Rugs
To prevent having to toss a rug before its time, it's smart to repair problems while they're small. If the rug is valuable or the damage severe, consider professional help to remedy the situation.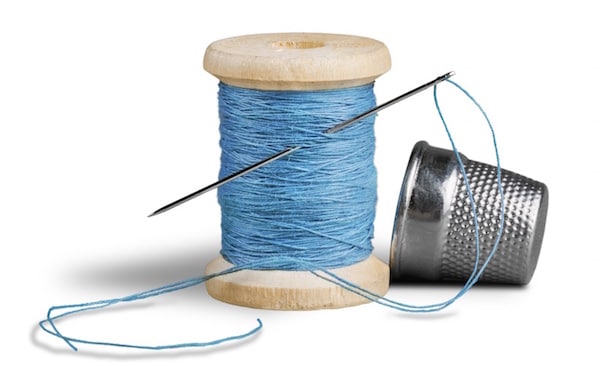 Rug Tears
Sewing: Braided rugs can be easily fixed by using a rounded upholstery needle to sew the braid back together. Other types of rugs can be mended by putting the torn ends together and sewing from the underside of the rug using a rounded upholstery needle and strong thread that matches the rug. Duct Tape: If rug fibers weren't lost, a piece of duct tape placed on the back of the rug can easily and economically repair a torn rug.
---
Frayed Edges
Sewing: Start ¼ inch from the frayed edge of the rug and sew over the edge using an upholstery needle and heavy-duty thread in a color that matches the rug.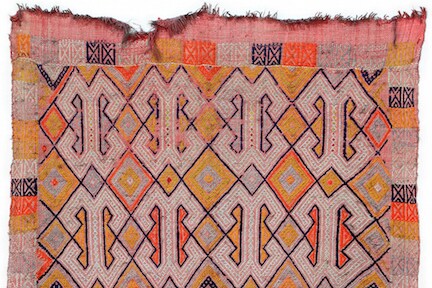 ---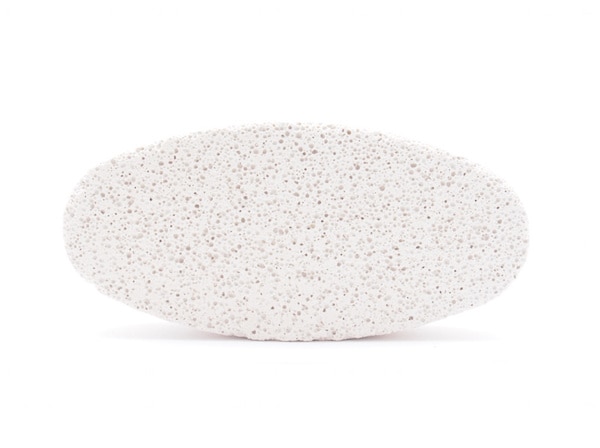 Rug Pilling
Pumice Stone:
1. Vaccuum your rug.
2. Hold the pumice stone in your hand and gently run it across the surface of the rug.
3. Use tape or vacuum to pick up loose pills.
Carpet Fuzz Remover:
1. Vacuum your rug.
2. Working in small areas, systematically work your way across the rug, stopping to discard fibers from fuzz remover when necessary.
Scissors:
1. Vacuum your rug.
2. Gently lift the pill from the rug and carefully trim with scissors, being mindful you don't snag or pull other fibers from the rug.
---
Loose Loops
Loose loops are most commonly found with Berber carpet, which will pull out in one continuous strand if not repaired right away.
Glue:
1. When the loop comes out, it will untwist. Retwist before gluing down.
2. Apply a small dab of hot glue on the rug backing.
3. Carefully press the loop onto the glue and hold until secure.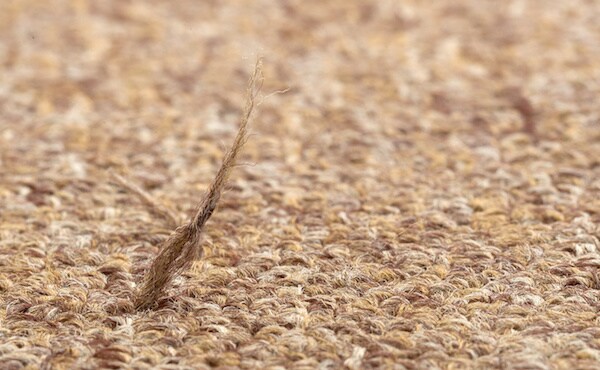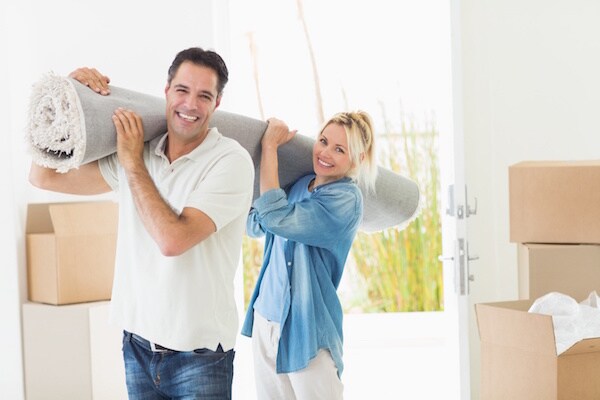 Whether you're moving or merely rotating your rugs by season, proper care will eliminate surprises or damage when your rug is unpacked. Here are a few simple DOs and DON'Ts for storage success!
 DOs
---
DO: Store a clean rug. Have it professionally cleaned if necessary before wrapping. DO: Roll with the pile on the inside and the backing on the outside. DO: Wrap in paper. Brown kraft paper works well, but Tyvek® or water-resistant paper is best. DO: Store in a climate-controlled area.
 DON'Ts
---
DON'T: Wrap in plastic! It allows moisture to be trapped inside and can cause a mold problem. DON'T: Store a wrapped rug directly on the floor. Keeping it off the floor allows air circulation and prevents damage from dampness or an unnoticed leak.
Area Rug History & Glossary
A Brief History of Area Rugs
Centuries ago, early civilizations created floor coverings using animal hides. These earliest rugs were used primarily for protection from the cold. But over time, as the use of materials expanded and skill and design improved, rugs became an important design element in home decor.
---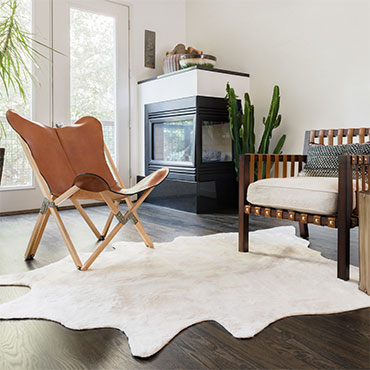 Tanned Hide
The earliest known floor coverings were crafted from animal skins, treated or "tanned" to be more durable. While exotic animal hides have been used historically, they are increasingly rare (and often illegal) due to dwindling animal populations. Some agricultural practices, like open-range herding of sheep and cattle, provide a renewable and sustainable source of high-quality hides for use in modern decor.
---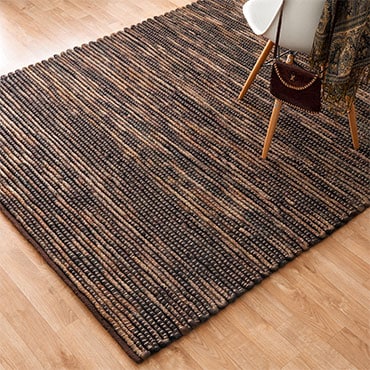 Felted Rugs
After the use of animal skins for floor coverings, the nomadic people of central Asia created felt using a process of beating, rolling, and pressing wool into compact sheets. The first known felted wool rugs were used as sleeping mats, their insulative properties a matter of survival for dwellers in colder climates. Felting was also a relatively easier way to make larger area rugs.
---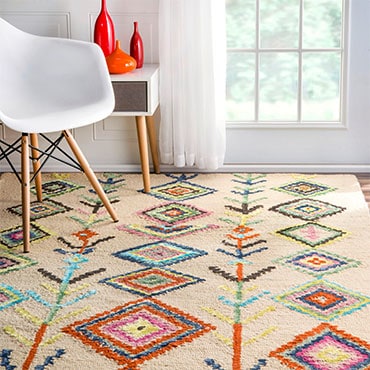 Embroidered Rugs
As people moved to more northern, severe climates, the need to protect themselves from the cold increased. Inhabitants began to bind leather and felt together for that purpose using an intricate method of sewing and needlework known as embroidery. These ancient artisans adorned their early rugs with functional and decorative stitches, beads, ivory, and other ornamental objects. Many of the stitching styles and techniques created centuries ago are still used today.
---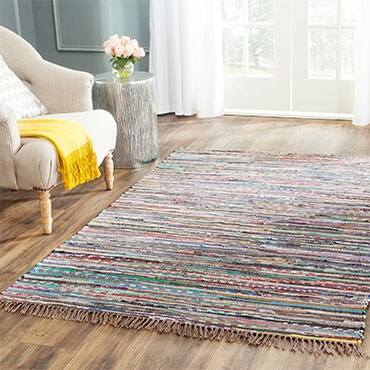 Woven Rugs
Evidence suggests that weaving has been around since the Paleolithic Era. Weavers from early cultures developed or adapted their methods, carefully staining yarns with natural pigments for brilliant and lavish colors. The biggest advancement in woven rug-making came with the advancement of the loom. The hand loom, a tool used in early civilizations, is still used to make handmade rugs today. Automated mechanical looms use the same principles and are a natural progression of the technology created by our earliest ancestors.
---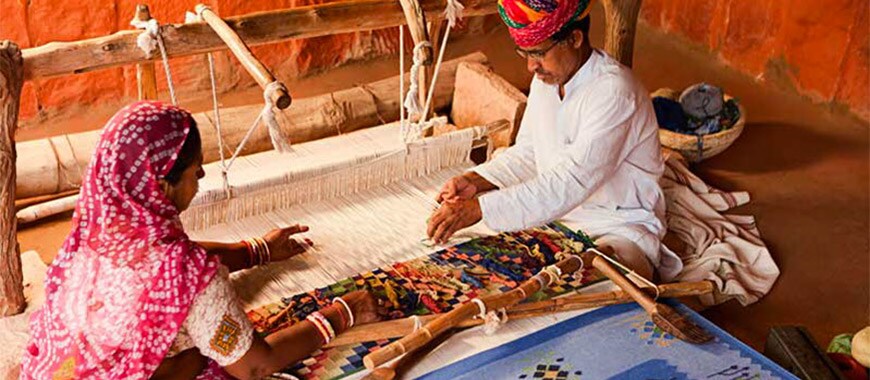 Abaca: A strong and durable fiber made from the leafstalk of a banana plant native to the Philippines.
Acrylic: A synthetic fiber use in many ways, including rugs and clothing.
Art silk: A synthetic fiber that is crafted to look an d feel like silk.
Bamboo rugs: Usually made from wide strips of a bamboo plant, these rugs are especially durable.
Berber pile: Pile that has not been cut and therefore has a looped surface.
Border: The outer edges of the rug design. Multiple borders may exist in a rug pattern.
Braided rug: Created by braiding material together, then sewing the lengths of braid in circular patterns to form a rug. The braided rug is an ancient design with a revitalization in Early Colonial America.
Coir: A durable fiber made from coconut husks.
Carpet: A heavy, woven floor covering made of wool or synthetic fibers. Armenian origin.
Cotton: A natural fiber used for the backing of tufted rugs or as the main rug fiber on its own or in a blend.
Cut and Loop Carpeting: A rug that contains both plush (cut loops) and Berber (uncut loops) pile.
Dhurrie: A type of flatweave rug native to India, traditionally made of wool or cotton.
Flatweave Carpets and Rugs: Flatweave is made by weaving warp (vertical) and weft (horizontal) threads on a loom. It's characterized as having no pile and is often reversible. Oriental flatweaves include Kilim, Soumak, plain weave, and tapestry weave. European flatweaves include Venetian, Dutch, damask, list, haircloth, and ingrain.
Foundation: The base of the rug on which fibers or yarns are woven. Consists of warp (vertical threads) and weft (horizontal threads).
Field: The part of a rug containing the main design, typically the center.
Hand-knotted Rug: The hand-knotted system is a completely manual one in which an individual rug maker knots wool yarns to a warp and weft foundation. The value and durability of the rug increases with the number of knots.
Hand-tufted Rug: Hand-tufted rugs are made with a pistol-like tool that "shoots" yarn through a backing. The tool also cuts the yarn, leaving a tuft behind which becomes the pile. These rugs are made with artistry and craftsmanship, but usually require less time and skill to create than hand-knotted rugs. Since the yarns are not knotted, they are fixed to the backing with latex or cotton fabric and glue.
Jute: An easily dyed fiber made from two Asian plants in the linden family. The same fibers are used to make burlap and twine.
Kilim: A type of flatweave rug native to Turkey that is made with tapestry techniques. The rug is often reversible.
Knots: Loops wrapped around warp yarns to produce the surface pile of a rug.
Knot density: A measure of quality for handmade rugs, it refers to the number of knots per square inch.
Loom: A rigid framework used for weaving. Rug looms may be vertical or horizontal.
Looped or Hooked Pile: See Berber pile
Needle Felt: Needle felt is a modern application of ancient felting technology. Synthetic fibers are felted using barbed hooks and forked needles to create an intricately articulated mesh. This carpet is extremely durable and is often used in commercial, high-traffic areas like airports, restaurants, and movie theaters.
New Zealand Wool: Wool from New Zealand is widely considered of the highest quality available. It contains high levels of lanolin, which makes the wool more durable.
Nylon: This synthetic fiber is often mixed with other fibers to increase yarn durability. It's also used to make outdoor rugs.
Olefin: See polypropylene.
Oriental Rug: A rug made in Asia or the Middle East. Can be hand-woven or hand-knotted and usually has intricate designs.
Outdoor Rugs: Made with synthetic fibers, usually polypropylene or nylon, outdoor rugs are often treated to be mildew-resistant and fade-resistant.
Pile: This refers to the length of the fiber above the base of the rug and is made up of individual yarn tufts. As a general rule, the deeper the pile, the more luxurious your rug will feel. Pile can be trimmed to various lengths in a single carpet to add dimension and visual interest.
Plush Pile: Cutting the yarn loops created during the process of tufting characterizes a plush pile. Berber carpets leave the loops uncut.
Polypropylene: A thermoplastic fiber that is often used in outdoor rugs. It's easy to clean and is often treated to be mildew- and fade-resistant. Also known as olefin.
Seagrass: Rug fibers made from the stems of saltwater marsh plants. This fiber has a light sheen and is high durability.
Silk: A natural protein fiber spun by silkworms. It's often blended with wool to create a stronger yarn with a slight sheen. Silk yarns are more likely to be found in hand-knotted rugs.
Sisal: An extraordinarily strong and durable fiber made from agave leaves.
Tapestry Weave: A flatweave made on a vertical loom where the weft makes up the pattern and the warp yarns are not seen in the complete work.
Tufts: Tufts are individual yarns that make up the carpet pile. They are glued to the carpet foundation rather than knotted.
Warp: The vertical yarns that are woven against the weft (horizontal yarns) to make up the base of a rug. More yarns are worked into the base to create the pile and rug pattern.
Weft: The horizontal yarns that are woven over and under the warp (vertical yarns) to make up the base of a rug. More yarns are worked into the base to create the pile and rug pattern.
Wool: A natural fiber from the coats of sheep, alpacas, llamas, or goats. Wool is the most versatile yarn when it comes to rug making. It's durable, soft, water-resistant, and generally easy to clean.
Yarn: Spun or plied (two spun yarns then spun together) fibers that can be used as warps, wefts, or pile. Yarn may be an S-twist (clockwise) or a Z-twist (counterclockwise).