8 Trendy Lighting Styles to Brighten Your Home
Illuminate your home with light fixtures that brighten your style as well as your space. Whether you prefer the homey charm of a rustic chandelier or the sleek appeal of modern pendants, stylish lighting can add personality and a unique element to your decor. Browse these popular lighting styles to find a look you'll love in your home.
1. Rustic Lighting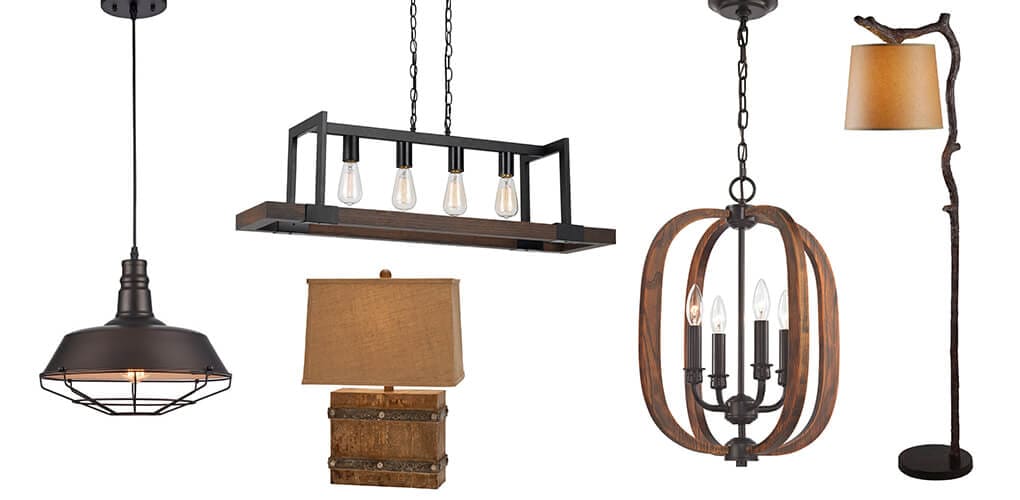 Rustic lighting incorporates natural elements, such as wood, to evoke a sense of rural warmth and charm. Mason jars and Edison bulbs lend a nostalgic element and reinforce the rustic theme. Many rustic-style lights are mounted on or hung from solid wood beams or planks treated to appear dark and aged. Rubbed bronze is also a popular material used in rustic lighting, particularly in rustic chandeliers. Update your home with these classic fixtures to bring an old-time vibe to a new-age space.
2. Mid-Century Modern Lighting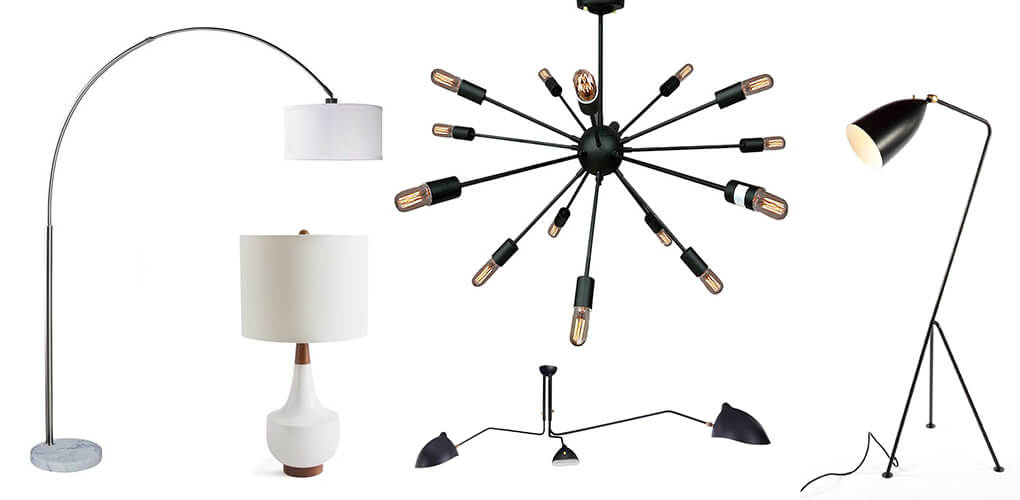 Brassy metals and vibrant colors are common elements of mid-century modern lighting, although they are not usually combined in a single fixture. Multi-arm sputnik chandeliers, drum-shaped pendants, and arched floor lamps all embody mid-century modern style. In addition to lighting up your home, the bold, striking design of mid-century lamps and chandeliers will upgrade the feel of your overall decor. Implement the best of mid-century design with lighting that makes an impression.
3. Glam Lighting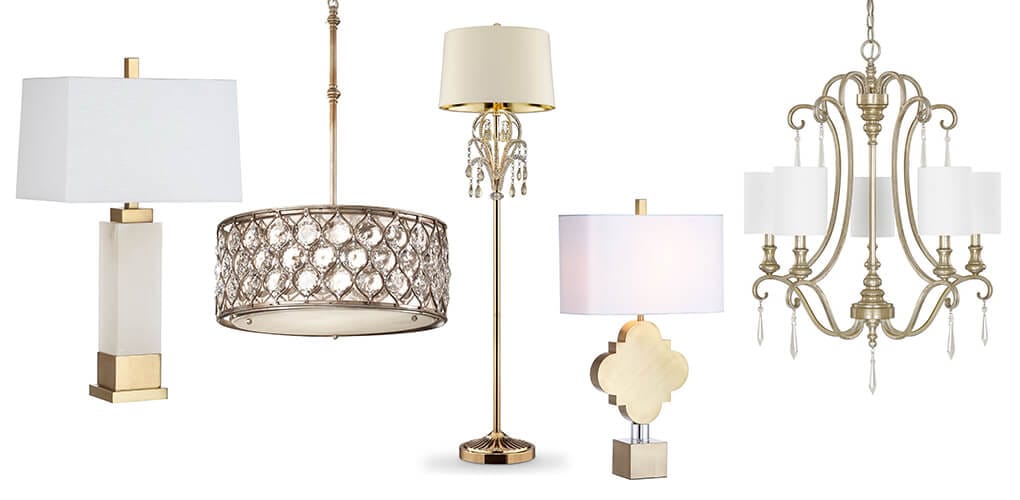 If you like glitz, gold, and glass, then you'll love glam lighting. Glam is known for glamorous and ornate light fixtures that are designed to awe and inspire. Elegant crystal chandeliers and pendants can create a breathtaking focal point in a glam dining room or sitting room. Gold-colored light fixtures made from mirrored bronze or brass will add shine to any space and dazzle friends and guests. Capture the glamour of old Hollywood and make a style statement that can't be ignored when you outfit your home with glam lighting.
4. Industrial Lighting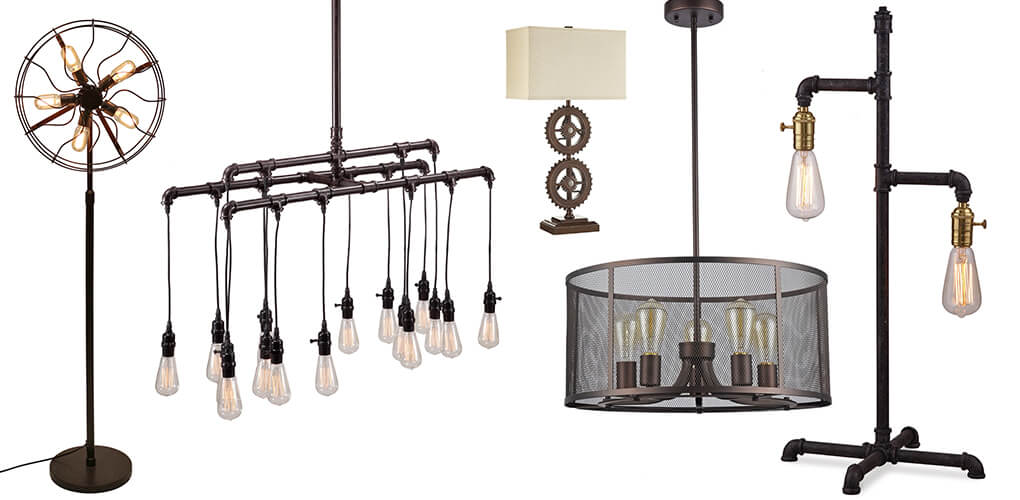 If the design of your home lends itself to an industrial style, then including industrial lighting is a perfect way to complete the look. Look for light fixtures that incorporate pipes, wire cages, or Edison bulbs. Industrial chandeliers may use multiple hanging basket lights or branched piping for a more stationary design. Along with needed illumination, industrial lighting brings a balanced sense of weight to your space. Whether you're looking to fulfill your steampunk dreams or you just enjoy a warehouse vibe, industrial lights are a great way to light up a unique home.
5. Coastal Lighting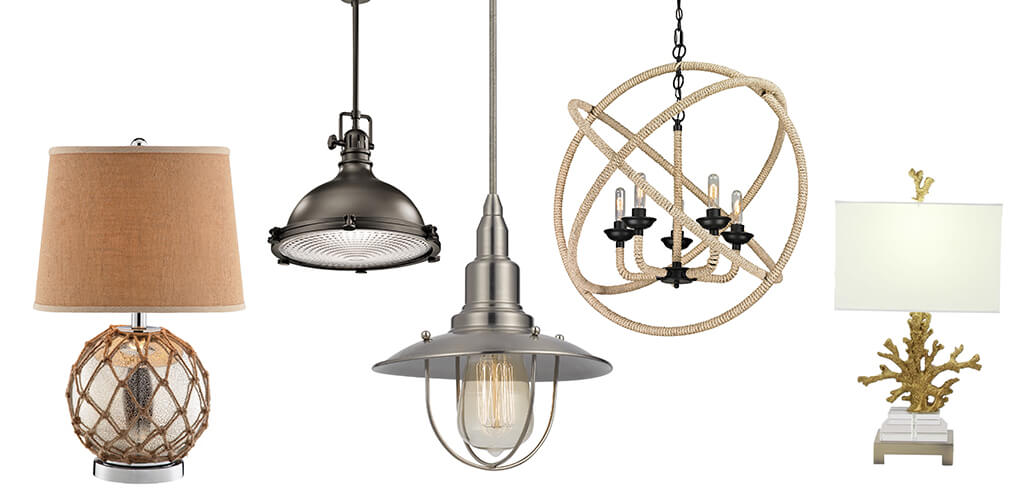 Coastal lighting lends a breezy air to a nautical-themed space. A coastal home is meant to feel light and open, so having the right style of lighting is a must. Table lamps shaped like ocean elements or wrapped in nautical rope softly illuminate small areas and provide a healthy dose of coastal flair. Look for coastal chandeliers in white or chrome to reflect existing light and brighten up a living or dining room. Coastal pendant lights also look great in a sea-themed space, especially with woven drum-style shades or as simple cage lights. Embrace the feel of sunshine and ocean breezes with tasteful lighting that brightens every corner of your home.
6. Farmhouse Lighting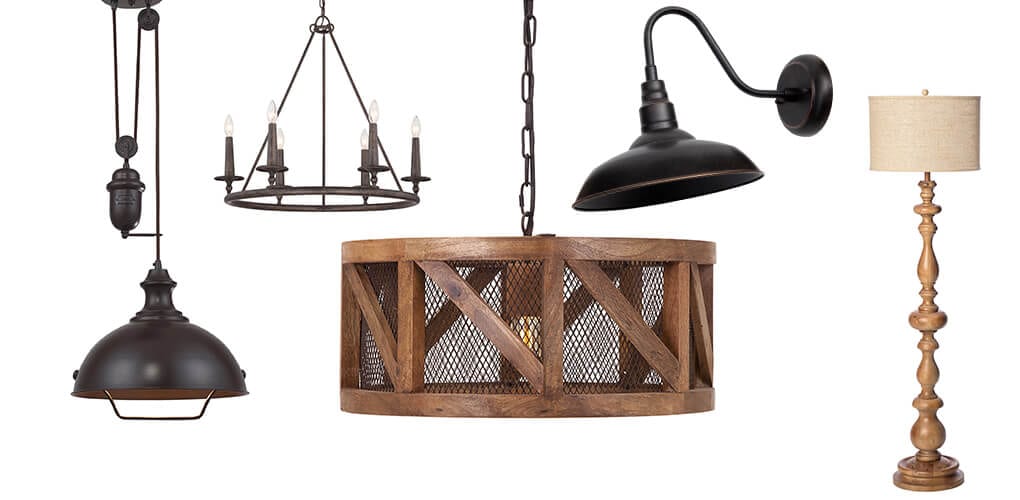 Farmhouse lighting is similar in many ways to rustic lighting. It also makes use of distressed wood and vintage elements to convey an aged feeling to your space. Look for farmhouse pendants in chrome or stainless steel to brighten your surrounding decor. Mason jar farmhouse chandeliers are popular, along with traditionally influenced candelabra chandeliers. Try to work in distressed lighting, whether that be a wooden chandelier or a repurposed milk can lamp. The details make the difference in creating a farmhouse look you'll love with attractive, home-style lighting.
7. Traditional Lighting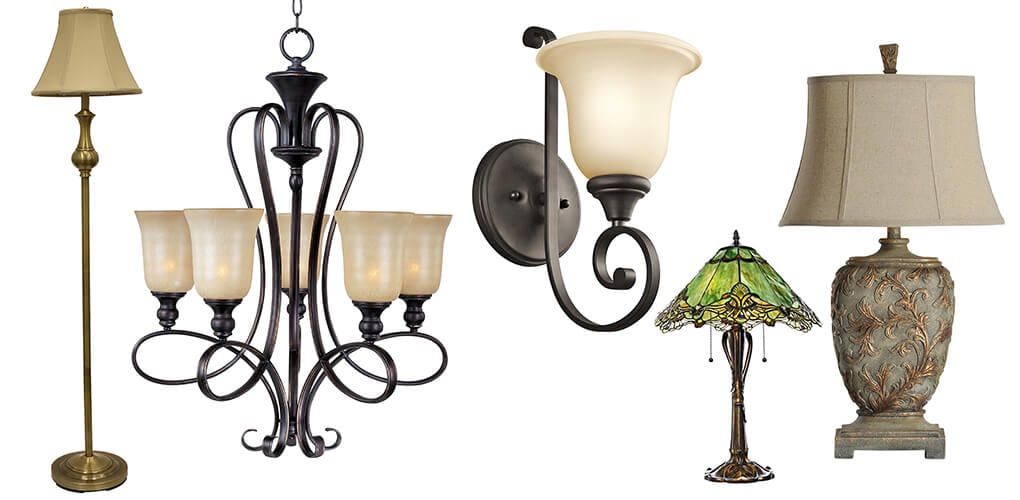 Classic and elegant, traditional-style lights have been brightening dining rooms and living areas for decades. Traditional lighting encompasses a wide range of light fixtures, including traditional chandeliers made with glass or crystal and ornate pendant lighting. Candle-shaped bulbs and small fabric lampshades are both commonly used in this lighting design. Glass and metal are popular materials for this style, especially shiny metals such as chrome, bronze, and stainless steel.
8. Contemporary Lighting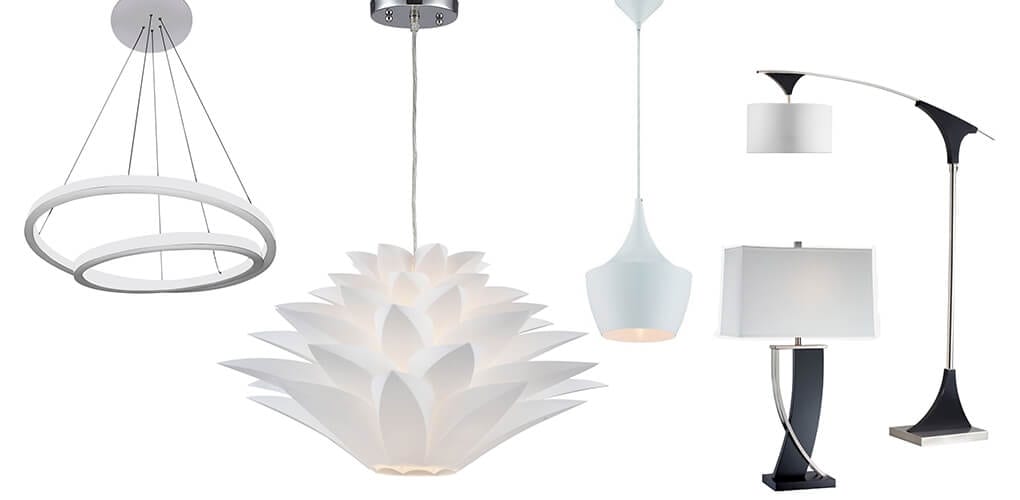 For something more exciting, contemporary lighting makes a striking statement in any room. Influenced by modern style, contemporary light fixtures come in a variety of unique shapes and configurations. Cluster pendant lights and metal-arm chandeliers are some of the most popular light arrangements in this eye-catching style. These bold fixtures aren't meant to blend into your surrounding decor. Find a sleek pendant light or unorthodox floor lamp to add contrast and visual interest to your space.